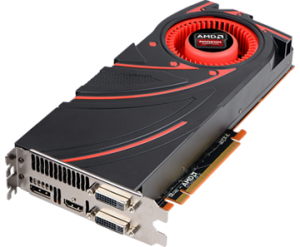 AMD has officially announced their next generation video cards, known as the Radeon 200 series. Within the 200 series are 2 GPU sub categories, the enthusiast product line being called the Radeon R9 series and the mainstream product line being called the Radeon R7 series.
To put it bluntly, these next generation video cards are anything but new. If you haven't been following the rumor mill over the last few weeks the Radeon R7 and R9 series with the exception of the R9 290 video card are all based on the same GPU (Tahiti) that makes up the Radeon 7000 series. Besides the new naming scheme introduced by AMD, these next generation video cards are largely unchanged with the exception of some minor frequency tweaks. However on the plus size there is a significant drop in price compared to when they first debuted nearly 2 years ago. The biggest news today from AMD is the price and new features that these newly named video cards will have. Notice how I said newly named, because again the GPU is largely unchanged from the previous generation (Read Radeon HD 7000 series) video cards. That being said the Radeon 200 series video cards are different, as they do have new firmware and new features not available in the 7000 series. There are two notable features coming with the 200 series, first is the ability to drive three DVI/HDMI Type Displays off of one video card and second is AMD's TrueAudio technology. While Mantle is also part of the 200 series, its important to note that this feature will be available to all AMD Video Cards built around GNC. Finally in order of video cards launching today you have the R9 280X, R9 270X, R7 260X, R7 250 and R7 240. At the very top end there is the R9 290/290X, however this card is not launching today and no specifications for it have been released. For the other cards full specification can be found below in the table. 
| | AMD Radeon R9 280X | AMD Radeon R9 270X | AMD Radeon R7 260X |
| --- | --- | --- | --- |
| Stream Processors | 2048 | 1280 | 896 |
| Texture Units | 128 | 80 | 56 |
| ROPs | 32 | 32 | 16 |
| Core Frequency | 850Mhz | 1Ghz | 1Ghz |
| Boost Frequency | 1Ghz | 1.05Ghz | 1.1Ghz |
| Memory Frequency | 6Ghz GDDR5 | 5.6Ghz GDDR5 | 6Ghz GDDR5 |
| Memory Bus Width | 384-Bit | 256-bit | 128-bit |
| Memory | 3GB | 2GB | 2GB |
| TrueAudio Technology | No | No | Yes |
| Power Consumption | 250W | 180W | 115W |
| Manufacturing Process | TSMC 28NM | TSMC 28NM | TSMC 28NM |
| Launch Date | 10/11/2013 | 10/11/2013 | 10/11/2013 |
| Launch Price | $299.99 | $199.99 | $139.99 |
For those curious which cards the Radeon 200 series match up to in the Radeon 7000 series please have a look at the table below. As for performance, these cards fall right inline with their 7000 series brothers and sisters. However keep in mind that different Manufacturers will be releasing overclocked versions to try to distinguish themselves from the competition; so expect a small performance difference between brands. Lastly I have included the original launch price as well as street price (as of writing) for the 7000 series so that some perspective can be drawn.
Predecessor

Launch Price

Current Price

Successor

Suggested Price

Radeon HD 7970

$549.99
$299.99

Radeon R9 280X

$299.99

Radeon HD 7870

$349.99
$199.99

Radeon R9 270X

$199.99

Radeon HD 7790

$149.99
$139.99

Radeon R7 260X

$139.99

Radeon HD 7770

$159.99
$109.99

Discontinued

NA

Radeon HD ????

NA
NA

Radeon R7 250 & R7 240

$89 & $69
Those looking to purchase a Radeon 200 series video card should be aware that both the R9 and R7 series are not currently part of AMD Never Settle Forever promotion. The Never Settle Forever is AMD's video game bundle promotion that is currently being offered to anyone who purchases a 7000 series video card. Keep in mind that the 7000 series not only comes bundled with some excellent video games, but is also seeing some price cuts/rebates to help sell inventory. AMD hasn't announced if the promotion will be extended to Radeon R9 and R7 at this time. However considering their past and current position with such incentives it wouldn't be surprising to see them offer a similar promotion once the 7000 series video cards dry up. Also its worth mentioning that  Nvidia currently is offering Batman Arkam Origins with the purchase of their Geforce GTX 700 series. More so I would expect AMD to stay competitive and offer a video game bundle with the purchase of an R9 or R7 video card, especially since we are closing in on this holiday season.
Last but not least I want to touch on what AMD is calling Mantle and I would like to quote Anandtech
Mantle is AMD's low level graphics API for GCN. Mantle was first announced at AMD's public GPU 2014 technology showcase, as part of AMD's greater plan to leverage their next generation console relationship. Mantle is fundamentally a low level API designed to interact extremely closely with AMD's GCN architecture GPUs, and in doing so will let them achieve greater performance than either Direct3D or OpenGL in some situations by bypassing the abstractions and overhead that can slow down the rendering process.

AMD Mantle Benefits
Mantle could very well be a game changer for AMD, and could potentially offer significant performance improvements across a very large selection of AMD Video Cards. For those who are not familiar with Mantle or just want a better understanding I recommend heading over to Anandtech and reading the article "Understanding AMD's Mantle: A Low-Level Graphics API for GCN"