Diagnostics
All Desktop & Laptop systems that undergo Computer Diagnostics at Mystic Hardware are tested vigorously to ensure all system components are in full working order. One of the number one causes of system failures, odd behavior or poor performance is defective or misbehaving hardware and this is often overlooked as being the cause of the problem. Diagnostics can identify the specific piece of hardware that is misbehaving; additionally it can be used to determine if the problem lies with incorrect or corrupt drivers, malicious software or corrupt installations of Windows Operating System.
System Diagnostics is the crucial first step to properly identify where the problem lies with a Desktop or Laptop System. While other companies may choose to skip this step, Mystic Hardware knows how important it is and will never skip the diagnostics phase.
Diagnostics tests can take up to 24 hours to complete depending on the system. The following hardware can be tested and validated with a diagnostics:
Processor
Memory
Motherboard
Video Card
Sound Card
DVD/Blu-ray Drives
Hard Drives
Laptop Battery
Who Needs A System Diagnostics?
Desktop or Laptop stutters, lags, freezes, restarts, shuts down or becomes unresponsive while in use. There are visual defects on the screen or colors & pictures aren't displaying correctly. Constant CD/DVD or Blu-ray read or write errors. Loud, humming or unusual noise coming from the desktop or laptop computer.
---
---
Data Backup
Data backup is an essential step to ensure mission critical data is stored in a second or third location in case of hardware failure, accidental deletion or corruption of data. Mission critical data can be defined as any data required to finish a project or to complete a specific task. Additionally it's any data that cannot be replaced if it were loss. This can be family photos, videos or documents that hold sentimental value, as well as business documents and files that are necessary for day to day operations. The most reliable and affordable means of a backup available is recording Data to CD, DVD or Blu-Ray discs. Additionally backups can also be stored on flash drives or external hard drives. However it should be noted that storing backups on flash drives or hard drives are not as secure as recording them to CD, DVD or Blu-Ray Discs. It's important to understand that hard drives whether they are internal or external are the same; mechanical magnetic storage devices, and these devices can and will eventually fail.
Mystic Hardware offers Data Backup services. All Data Backup regardless of the amount of data being backed up is charged at an hourly rate. Mystic Hardware uses CD, DVD and Blu-Ray discs to create backups. CD & DVD disc are professionally labeled using Light Scribe. Additionally if requested we can also configure and setup a schedule to automatically backup to an external hard drive (Note hardware must be purchased separately); however we do not recommend that this be the only backup solution employed. Using an external hard drive as a backup device is convenient; however it's not nearly as reliable as recording data to CD, DVD or Blu-Ray Discs.
Who Needs Data Backup!?
Anyone who owns a computer or similar device that stores data may need Data Backup. Both individuals and businesses that have Data that they could not afford to lose should consider Data Backup. If you have family pictures or videos that would be irreplaceable if lost then Data Backup would be a perfect solution for you. By recording them to reliable media you can store them safely for generations. Additionally anyone with files that are mission critical should consider Data Backup.
---
---
 Data Migration
Data Migration is the task of transferring data from one computer to another. This is usually something that is carried out when a new Desktop or Laptop computer is purchased and an individual would like their important or often used files on both computers or moved from their older computer to their new computer because they plan on discontinuing use of the older system. Data Migration is also something that is done when an older computer stops functioning and important files need to be moved to a new system. However it is important to understand that if the Desktop or Laptop has suffered from Hard Drive corruption or failure; Data Migration may not be possible without first performing Data Recovery.
Data Migration is an important step to ensure data integrity when moving from one system to another. Mystic Hardware can transfer as well as make a backup DVD of all tangible files on a system. This mean all Documents, Photographs, Audio & Video Files can be migrated to a new system and a DVD backup can be created to ensure your files stay safe for a lifetime. Additionally frequently used software can be installed upon request; however any software that requires a license and activation must have a valid CD Key or COA Tag to be reinstalled, if one cannot be provided Mystic Hardware will be unable to install the software. Data Migration isn't limited by the amount of data that you have and it doesn't matter if it's a couple Gigabytes in size or over 100 Gigabytes.
Who Needs Data Migration?
If you have multiple computers and would like your files on both systems; Data Migration can get that done. Individuals or businesses that have purchased a new system and plan on discontinuing use of an older system may benefit greatly from Data Migration. Additionally anyone who has years of family pictures or what we like to call "Memories Frozen in Time" can benefit greatly from the DVD backup portion of Data Migration. Nothing is worse than losing photographs that hold sentimental value and cannot be replaced. Don't let yourself become a victim of Data Loss, you owe it to yourself to have a DVD backup created to ensure your photographs last a lifetime, and in case of that unexpected Hard Drive failure or Data Loss you can use the backup to restore what's most important to you.
---
---
Data Recovery
It's happened to us all before. We have countless Pictures, Documents, Music & Video Files on our Desktop or Laptop Computer and then suddenly the system crashes, has a hardware failure or you accidentally delete something you actually wanted to keep. Well before you decide to smash the computer, or throw it out the window (yes we know everyone at some point has thought of it) you may want to consider that the files that you think are lost have a high probability of being recovered.
Data Recovery is the process of recovering Data from a storage device, these devices can include Hard Drives, Flash Drives, SD Cards and even CD's or DVD's that have been damaged. Most of the time though, the specific storage device in question are Hard Drives; Hard Drives are the primary devices used to store all Data on Desktop & Laptop Computers, and it's not uncommon for data to be accidentally deleted or to have a hardware failure causing your system to lose data.
Mystic Hardware can perform Data Recovery on Hard Drives, SSD, Flash Drives & other storage media where files have been accidentally deleted or systems have become corrupted and required a format. In the event of hardware failure, depending on the storage device Data Recovery may not be possible for Mystic Hardware to perform. If you aren't sure if the device still functions, we recommend you schedule an appointment with us and have the devices inspected for functionality.
Additionally it is IMPERATIVE that you don't disassemble any HARD DRIVE that needs Data Recovery performed. One of the biggest mistakes individuals make when it comes to Hard Drives is opening the hard drive up and playing around with internal components. If you would like to see the inner workings of a Hard Drive, we highly recommend you stop by and we will provide one that doesn't have any important data on it. Once a hard drive has been opened it is susceptible to physical damage that can result in permanent data loss. The internal components of a hard drive are extremely delicate and even a small piece of dust or lint can cause damage to them. Before opening the drive up, have it looked at, remember once Data Recovery has been performed you can do anything you like with the hard drive and your data won't be harmed.
Mystic Hardware is committed to integrity, honestly and most of all superb services. We know our limitations, and when it comes to Data Recovery, there are certain scenarios that require highly specialized equipment to perform Data Recovery.
What does this means? This means, we will NEVER put your data in harm's way to perform risky Data Recovery. Risky Data Recovery is when risky tactics are used to attempt to recover data. Some of these include hard drive platter transplanting, logic board transplanting or other parts to the hard drive. If anyone promises they can perform these kinds of tasks, ask them if they have a Clean Room and the necessary equipment to perform a transplant. If they tell you no or that those two things aren't necessary, take your hard drive and find someone else to perform Data Recovery. If the hard drive is physically damaged due to a Fire, Flood, Hurricane, Tornado, Earthquake, Power Spike/Shortage Mystic Hardware recommends that you use a professional data recovery center.
Have questions regarding Data Recovery? Not sure what is best for you? No problem, Data Recovery can be very complex! If you have questions, please don't hesitate to send us an email or give us a call and we will be happy to assess the situation and answer any questions you may have.
Who Needs Data Recovery?
Data Recovery is a service targeted towards anyone who has lost data that is deemed important or mission critical and would like that data recovered. It doesn't matter if you accidentally deleted files, or formatted the hard drive. Storage devices, primarily Hard Drives that are failing, have developed bad sectors or simply refuse to respond may need data recovery.
---
---
Computer Tuneup
Desktop & Laptop PC Tuneup, restores system responsiveness and performance and removes unwanted or unnecessary files & programs from the computer. Additionally it includes processes & registry optimization, as well as the installation of Windows updates. Finally a comprehensive removal of dust bunnies is also included, because we know those cute little bunnies would live better outside.
Most Desktop & Laptop systems purchased at big box office retailers come bundled with bloat-ware and trial software that use system resources and take up storage space. Something they also do is hurt system performance by stealing CPU cycles and memory that could be freed up and made available for other software, but more importantly for tasks that you are performing on the system. Furthermore systems that have been in use for several years often suffer from similar performance degrading and usually it's not difficult to notice that a used computer doesn't feel as responsive or as fast as a brand new one.
Who Needs A System Tune-Up?
New Desktop & Laptop Computers that come with bloat-ware or trial software. Bloat-ware or Trial software is any software that you didn't ask to have installed or any software that you can use for 30, 60 or 90 days before you are asked to purchase the software. Used Desktops & Laptops that are significantly slower than when purchased new, have a large amount of unused software or files that could be removed or are using an unusual high amount of system resources when the system doesn't appear to have any software opened. System Tune-up is a great way to revitalize & restore performance to a Desktop or Laptop Computer
What does it look like?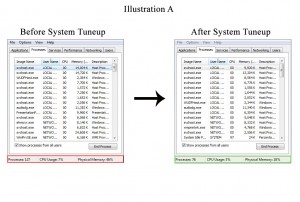 Illustration A represents a Computer before and after undergoing a System Tuneup. The left picture shows the Processes, CPU & Memory usage after a complete boot to the desktop, before a System Tuneup. While the picture on the right shows the same computer after a system tuneup. Notice the significant drop in running processes and the decrease in CPU & Memory Usage.
---
---
Computer Hardware Upgrades
Mystic Hardware offers a full range of Hardware Upgrades for all Desktop & Laptop computers. Hardware upgrades can bring better performance, breathe new life into an old system or bring a system up to par to run specific software that it may not have met minimum requirements for otherwise. We often hear individuals who purchase a computer and then later down the road decide they want to play video games state they need a whole new computer. This is rarely the case, especially with Desktop computers today. The truth is, by adding a dedicated video card to the system, it would enable it to play video games, so purchasing a brand new system isn't always necessary and may not be the most cost effective method.
All hardware upgrades performed by Mystic Hardware must pass a vigorous test to ensure that all components are working properly. This step is imperative to ensure system stability. Remember just because a component is brand new doesn't mean it is fully functional. There are defects in manufacturing and a percentage of all hardware that reaches the market every year is defective.
Mystic Hardware can upgrade the following components for Desktop Computers:
Processor (CPU)
Video Card (GPU)
Sound Card
Ethernet Card
Memory (RAM)
Hard Drive
Wireless Adapters
Optical Drive
Power Supply
Desktop Chassis
Mystic Hardware can upgrade the following components for Laptop Computers:
Processor (CPU)**
Memory (RAM)
Hard Drive
Optical Drive
Wireless Adapters
** Note that not all laptop computers support processor upgrades. Some manufactures choose to limit supported processors in their systems. Before proceeding with any upgrades to a laptop computer, Mystic Hardware will first validate which components support upgrading.
Who Needs Hardware Upgrades?
If your Desktop or Laptop Computer has suffered from hardware failure, you may need hardware replaced, which falls under the same conditions and guidelines as hardware upgrades. Those who are seeking better performance, additional storage space or more system memory may also want to consider upgrading hardware. Memory & Storage are two of the least expensive upgrades for computer systems and can vastly increase the longevity of a system. Individuals who play video games or would like to play video games can benefit greatly from a dedicated video card.
---
---
Laptop Repair
Laptop Computers are increasingly being used due to their portability, size and because of recent advancements in technology they are able to offer near desktop performance. However due to their small nature, Laptops can be damaged or broken easier than Desktop Computers, especially if dropped or mishandled.
Mystic Hardware offers a wide range of Laptop Repair services. We are fully equipped to upgrade or replace a wide range of components. We can replace broken or cracked LCD Screens as well as loose or damaged DC Power Jacks. The cost of replacing such components can be a fraction of the cost of a new laptop computer.
Signs of faulty or damaged parts on a laptop can be hard to identify. First lets take a look at what components we can upgrade or replace:
The following components can be upgraded or replaced:
LCD Screens
Motherboard
Hard Drive
Memory
Keyboard
Battery
DVD & Blu-ray Drives
DC Power Jack
AC Adapter
Now lets go over a few components on a laptop that are prone to damage.
LCD Screen:
We see it all the time, laptops with a cracked or non-functioning LCD Screen that doesn't display properly or at all. Laptop LCD Screens are delicate and need to be cared for, banging, hitting or throwing something at the LCD will end up cracking the screen. A cracked or broken LCD screen is easy to spot; a cracked screen can be identified as physical damage to the screen itself. A non-functioning screen is a screen that doesn't display but appears to be in working condition. An example of this is a screen that has a bad back-light and turns on but appears to display nothing.
DC Power Jack:
If you have a laptop that is frequently turning off if you touch the ac adapter when plugged into the laptop, the problem could be a damaged or loose DC Power Jack. A DC Power Jack is the port on the laptop where you plug the AC Adapter in to charge or power the unit. When laptops are constantly moved around while the AC Adapter is plugged in the pulling and tugging on the DC Power Jack can either damage the internals of the Jack or break the solder joints and cause it to become loose. Once this has occurred you may notice the laptop doesn't charge or power on unless you play with the AC adapter. Continuing to use a laptop with a damaged or loose DC Power Jack can lead to further system damage.
Keyboard:
Laptop keyboards can easily be damaged, they are not as resistant as traditional desktop keyboards. Laptop keyboards can be damaged from accidental spills, from improper cleaning of dust and other particles. Typically what we see are keyboards that seem to function properly but are missing several keys making it difficult to use those letters, numbers or characters. If your keyboard isn't functioning correctly or is damaged we can replace it with a genuine keyboard.
Who Needs Laptop Repair!?
If you have a laptop that is misbehaving or show casing any of the problems listed above then you may need your laptop repaired. Not sure what the problem is? Not a problem we can do a full system diagnostics and let you know where the problem lies.
---
---
Virus, Spyware & Malware Removal
If you own a Desktop or Laptop computer, chances are that at some point you have been the unfortunate victim of malicious software infections. Malicious Software infections include Virus, Trojan, Worm, Ad-ware, Spyware, Malware and scare-ware infections. The most unnoticed infection and potentially the most dangerous are Malware & Spyware infections. These types of infections monitor how the computer is used and if serious enough will track and record keystrokes and behavior on the system and report it back to the attacker.
Virus Removal is a comprehensive service that removes all Malicious Software infections completely ensuring they don't come back once the computer has been restarted. It doesn't matter the number of infections or the type of infections. In rare instances where Infections have persisted too long or a severe infection has altered or removed Window Files a complete format and re-installation of Windows may be required.
Who Needs Virus Removal?
Desktops & Laptop Computers that are acting funny may be infected with malicious software. Key signs of malicious software infections are redirects to advertisement websites, pop-ups for products or services. Home Page being changed, Antivirus, firewall and automatic updates disabled or rendered unusable. Task Manager and other Administrative Tools disabled or removed.
---
---
Windows Installation & Repair
Installing Windows Operating System can bring a Desktop or Laptop computer back to life. Many Desktop & Laptop computers after years of use become cluttered with junk, infected with malicious software or end up having hardware failures that require Windows to be reinstalled. Mystic Hardware can reinstall any version of Windows XP, Windows Vista, Windows 7 and Windows 8 operating systems. The installation includes a full Operating System install, all drivers installed and configured where necessary and all updates applied. Additionally basic antivirus software is installed & configured and key software can also be installed, for example Java, Adobe Flash, Adobe Acrobat Reader & Firefox.
It is important to understand that in order to reinstall Windows, a full format must be completed which deletes all data on the hard drive. In order to ensure no data is lost, all critical data must be backed up prior to reinstalling Windows. It should be noted that Reinstalling Windows DOES NOT include reinstalling all software that was on the system prior to formatting the hard drive. Mystic Hardware will install additional software upon request at an additional charge. Furthermore any software that requires a license and activation must have a valid CD Key or COA Tag to be reinstalled, if one cannot be provided Mystic Hardware will be unable to reinstall the said software.
Who Needs Windows Reinstalled?
If your computer has suffered a hardware failure, specifically a hard drive Windows will need to be reinstalled. Additional hardware components that may require Windows to be installed are Motherboard replacements if they are a different manufacturer or chipset. If your system has been infected with severe malicious software and the infections are not removable or repairable Windows needs to be reinstalled.
---
---
Wired & Wireless Network Deployment
Most Businesses and Homes have more than one computer in them. Instead of paying an internet service provider for additional IP addresses most businesses and individuals today purchase Wireless Router, Router, Switch or a combination and share a single internet connection between multiple computers. Network installation is the process of setting up and configuring a switch, router or wireless router to be used by multiple computers. Additionally network printers and other wireless devices capable of using the network or sharing the internet can also be configured to communicate across the network. Wireless Routers are a convenient way to make internet available wirelessly to devices that are not located close enough or are in an inconvenient location where running an Ethernet Cable would be cumbersome or problematic.
Mystic Hardware offers full Network deployment for residential and small businesses. The service includes the installation and configuration of a network, including securing a wireless connection if applicable. Under normal circumstances up to 4 computers can be hard wired to the router, and almost an infinite amount can be connected wirelessly. During the installation processes, Mystic Hardware will connect up to 4 computers using an Ethernet cable and any wireless computer upon request. If Ethernet Cables or wireless adapters need to be provided or run, Mystic Hardware can provide them at an additional charge. For internet access a modem must be present in the home at the time of installation.
Who Needs Network Deployment?
Anyone who wants multiply devices to be able to access the internet simultaneously may need a wireless router installed. If you have desktop or laptop computers or any other device that need access to the internet but are in a location where running a line isn't possible than Router installation would allow those devices to connect to the internet without having to run an Ethernet Cable